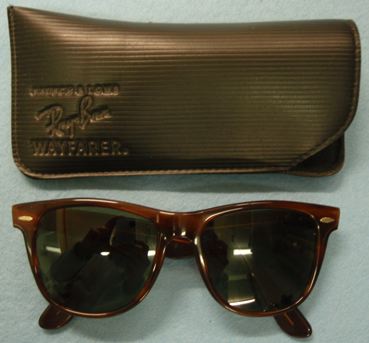 Ray-Ban Wayfarer II Sunglasses
Category:
Spectacles and lenses
Designer/inventor:
Raymond Stegeman, 1952 for Bausch and Lomb
Year Of Publication/Manufacture:
c1983
Time Period:
1940 to 1999
Place Of Publication/Manufacture:
USA
Publisher/Manufacturer:
Bausch & Lomb
Description Of Item:
Ray-Ban sunglasses in case. Glass G31 tint lenses with B&L insignia in plastic 'tortoiseshell' Wayfarer II frame. 'Ray-Ban' name plate on each outer temple, inside temple stamped 'B&L RAY-BAN U.S.A./ WAYFARER II'. 145mm x 52mm. Case: Black vinyl slip-in pouch marked 'BAUSCH & LOMB RAY-BAN WAYFARER II'. Sunglasses only in Gallery
Historical Significance:
Ray-Ban is a brand name of sunglasses created in 1937 by USA optical manufacturing giant, Bausch & Lomb. They were introduced for use by the United States Army Air Corps. In 1999, Bausch & Lomb sold the brand to the Italian Luxottica Group for a reported 1.2 billion dollars Some years before Ray-Ban sunglases were created, Lieutenant John MacCready had returned from a balloon flying adventure and complained that the sun had done permanent damage to his eyes. He contacted Bausch & Lomb asking them to create a type of sunglasses that would not only provide protection, but also look elegant. On May 7, 1937, Bausch & Lomb officially took out the patent. The prototype, known as Anti-Glare, consisted of an extremely light frame weighing 150 grams. They were made of gold-plated metal with two green lenses made of mineral glass to filter out infrared and ultraviolet rays. Pilots in the United States Army Air Corps immediately adopted the sunglasses. The Ray-Ban Aviator became a well-known style of sunglasses when General Douglas MacArthur landed on the beach in the Philippines in World War II, and photographers snapped several pictures of him wearing them.
How Acquired:
Donated by Elizabeth Hatfield, Fellow of the College
Location:
Archive Office. Spectacles cabinet Drawer 3