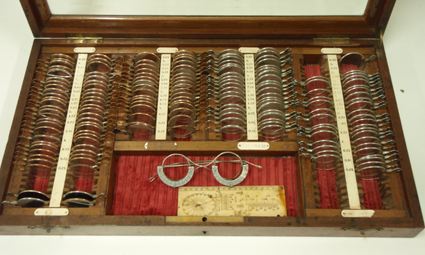 Timber trial case with glass lid
Sub-Category:
Trial lens case
Year Of Publication/Manufacture:
c1900
Time Period:
1900 to 1939
Description Of Item:
Timber trial case with glazed lid. Spheres to +/- 6.50, Cyls to +/- 4.50 Replacement red cloth lining. W: 49cm x D:27.5cm x H:6.0cm.Includes Moswheel trial frame with wheels to rotate cylindrical lenses (see also Cat No 949). Frame stamped 'MOSWHEEL PATENT No 1254/ MADE IN PRUSSIA/ 60m/m'. Nickel alloy, X-bridge, non matching temples. Also PD Rule calibrated in inches & millimetres.
Historical Significance:
Used by Melbourne optometrist Alan Ormsby Ralph early in the twentieth century.
How Acquired:
Donated by Mrs Gwen Marshall, daughter of optometrist Alan Ormsby Ralph
Condition:
Fair, several lenses missing, no catch on case
Location:
Archive room. West wall. Unit 5 Drawer 5