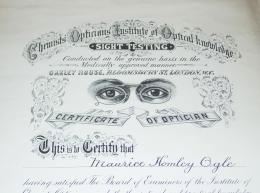 The Chemist-Optician: a Survey of the Theory and Practice of Visual Optics especially with Reference to Sight-Testing and Spectacle Fitting. Written Expressly for Retail Chemists.
Sub-Category:
Significant book (Aitken collection)
Author:
The Chemist Optician
Year Of Publication/Manufacture:
1908
Time Period:
1900 to 1939
Place Of Publication/Manufacture:
London
Publisher/Manufacturer:
Office of the Chemist and Druggist
Description Of Item:
Original black embossed cloth cover, 8vo, 210 pages plus 6 pages advertisements.
Historical Significance:
Some pharmacists practised optometry in the early years of the 20thC as a side line in their pharmacies. In Australia a few pharmacists obtained registration as optometrists when registration of optometrists was legislated in the 1920s and 1930s so the combination practice of optometry with pharmacy persisted thoughout the first half of the 20thC. In the UK there was Society of Chemist Opticans founded in 1904 for dual practtiioners. There is a long article on chemist-opticians on the web site of the UK College of Optometrists at http://www.college-optometrists.org/index.aspx/pcms/site.college.What_We_Do.museyeum.services.education.chemists/. The illustration on this page of a certificate of the Chemist Opticians Institute of Optical Technology is from that web page.
Location:
Nathan Library. Aitken collection