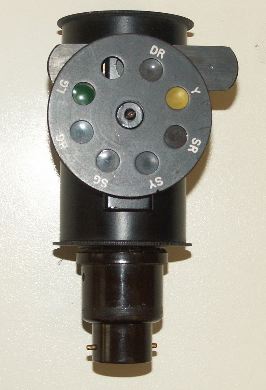 The Giles-Archer Colour Perception Unit. User instruction manual (2 copies)
Sub-Category:
Manual, for instruments etc
Designer/inventor:
GILES, George
Year Of Publication/Manufacture:
c 1942
Place Of Publication/Manufacture:
London
Publisher/Manufacturer:
R Archer and Sons Ltd
Description Of Item:
Stapled wrapper, title on front, 8 pages, illustrated. Undated. Stamped on front page 'LONDON OPTICAL COMPNAY LIMITED 344-354 GRAYS INN ROAD KINGS CROSS LONDON WC1'. The second copy is a later edition with some small editorial changes, a change in the name of the manufacturing company and a higher price.
Historical Significance:
Lantern tests are designed to test the ability of people with abnormal colour vision to recognise signal lights and are used by rail, maritime and aviation authorities. This unit was used by Coles & Garrard optometrists for industrial colour vision assessments. This is the user instruction manual for the Giles Archer lantern test of colour vision. It describes two models , the Regular model (price 3 pounds, 7 shillings and 6 pence = approx $AUD 7) and the Aviation Model (price 3 pounds, = approx $AUD 8). It gives the criteria for passing and failing on the back page. See Cat No 628 for actual instrument (Aviation model). The test was designed by George Giles, a British optometrist who was a long serving Secretary of the British Optical Association and author of a number of books on clinical optometry, copies of which are held in this museum. See Cole BL, Vingrys AJ. A survey and evaluation of lantern tests of color vision. Amer J Optom Physiol Optics 1982; 346-374 for more details. Cat # 571. See other lantern tests in this collection, the Edridge Green lantern cat # 430 and the Farnsworth Cat No 569.
Location:
Archive office. Pamphlet and ephemera filing cabinet. Drawer 2