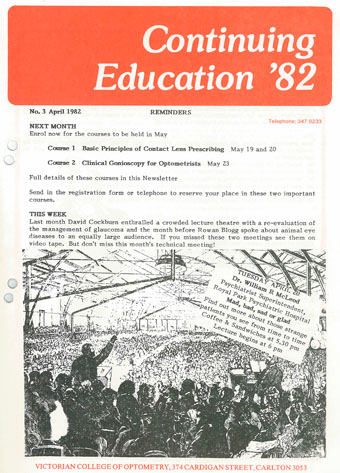 Continuing Education newsletters of the Victorian College of Optometry from 1976
Institution:
Victorian College of Optometry
Year Of Publication/Manufacture:
1976 -
Time Period:
1940 to 1999
Place Of Publication/Manufacture:
Melbourne
Publisher/Manufacturer:
Victorian College of Optometry
Description Of Item:
Five black arch files, containing the monthly news letters of the Victorian College of Optometry from 1976 to 2009 and for the Australian College of Optometry from November 2009.
Historical Significance:
The Victorian College of Optometry formally started annual programs of continuing education for its members in 1976. It had previously initiated biennial congresses, known as the Southern Regional Congress,organised in conjunction with the Victorian Division of the Australian Optometrical Association. In 1976 it decided more was needed than one two-day congress every second year and that the College should place more emphasis on short courses rather than a smorgasbord of Congress lectures. It offered annual programs of monthly evening technical meetings, short courses of one or two days and clinical workshops. It also provided an audio-visual postal service so that country members could watch the technical meetings on video. In order to promote these offerings the College published a monthly newsletter advertising the courses and lectures but also providing news, information about new books and occasional guidelines on aspects of clinical practice, known as practice audits. Cat No 1391 c conatins a list of all the practice audits from 1979 to 1999. This is an almost complete set of the College's newsletters from 1976.
How Acquired:
Donated by Barry L Cole
Location:
Archive office. South wall. Cube 7