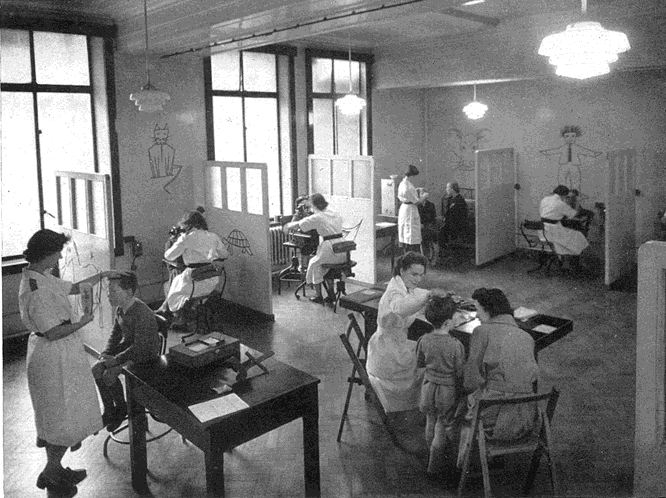 Lyle and Jackson's Practical orthoptics in the treatment of squint
Sub-Category:
Book of historical note
Author:
Thomas Keith LYLE, Marianne WALKER
Year Of Publication/Manufacture:
1953
Time Period:
1940 to 1999
Place Of Publication/Manufacture:
London
Publisher/Manufacturer:
HK Lewis and Co Ltd
Description Of Item:
Navy blue cloth covers, gold embossed lettering, 371 pages including index, glossary and references, 195 figures and several charts and forms. Frontispiece is a black and white photograph of the orthoptic clinic at the Moorfields, Westminister and Central Eye Hospital (pictured)
Historical Significance:
This is a later edition of this classic text book on orthoptics. The first was 1937 (see Catalogue No 203) . See Cat 297 for the 3rd edition. This edition adopts the descriptor 'Lyle and Jackson's in the title and Walker replaces Jackson as the second author. It continued for several editions under the name of 'Lyle and Jackson's practical orthoptics in the treatment of squint' until 1970 with Jackson and Wybar as authors. T Keith Lyle CBE MA MD MChir FRCP FRCS (1905-1987) was an international figure in ocular motility who in addition to writing this book edited Chavasse's edition of Worth's squint and the 13th Edition of May and Worth's diseases of the eye. He was President of the Faculty of Ophthalmology in 1968 and Dean of the Institute of Ophthalmology for a time.
How Acquired:
Donated by Barry L Cole
Location:
Archive room. East wall. Books of historical note