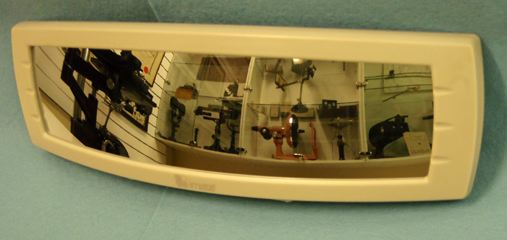 Designer/inventor:
ATTWOOD Stephen
Year Of Publication/Manufacture:
2000
Place Of Publication/Manufacture:
China
Publisher/Manufacturer:
Advance International Enterprises
Description Of Item:
Convex mirror, 28 cm wide x 6.2 cm deep, mounted in grey plastic frame with adhesive strips, contained in a cardboard box with name of device and instructions for installation on one surface of the box. Single A4 sheet of a press release is enclosed with the device extolling its virtues as a means of reducing eyestrain when using computers (VDUs). The press release quotes Professor Barry Cole, former Director of the Victorian College of Optometry
Historical Significance:
This device was invented to help relieve eyestrain symptoms said to be associated with sustained use of computers (VDU). Its rationale is to allow relief of accommodation when the location of the computer does not give a long distance view and to enable the user to keep in visual contact with the world behind. See http://www.imate.com.au/ which was still active in 2010. The introduction of computers to the workplace from the 1970s caused considerable controversy on the grounds that they had adverse effects on health, including eyestrain and damage to the eyes. See Cole BL (2003) Do video display units cause visual problems? A bedside story about the processes of public health decision-making. Clin Exp Optom 86, 205 - 220 for an overview of the controversy and its resolution.
How Acquired:
Donated by Barry L Cole
Location:
Archive room. West wall. Unit 4 Drawer 2