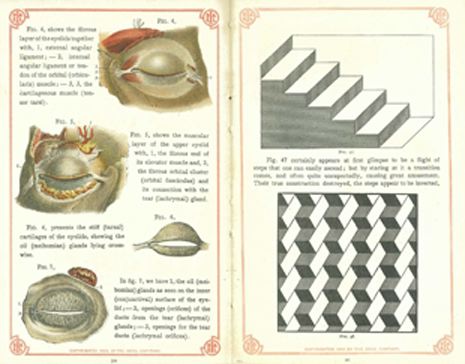 Sub-Category:
Significant book (Aitken collection)
Year Of Publication/Manufacture:
1899
Place Of Publication/Manufacture:
London
Publisher/Manufacturer:
The Ideal Company
Description Of Item:
Original pale green decorated cloth covers. 71 pages, 76 figures in text of which 39 are coloured. Pencilled name of BG Harries (?) on front fly leaf. Stick down label pasted on the title page for the Highwater Laboratory Company of Southwark London UK, manufacturers of physical culture appliances and fine toilet preparations.
Historical Significance:
This attractive little book was probably written and published to promote the Highwater Laboratory Company of Southwark London UK, manufacturers of physical culture appliances and fine toilet preparations. It begins with a section on language and the beauty of the eye being 5 pages of poetry about eyes written by Byron, Shakespeare, Spencer and others. This is followed by a series of chapters on the anatomy of the eye, the phsyiology of vision, accommodation, illusions, errors of refraction and binocular vision and diseases of the eye. This is surprisingly detailed considering the presumed audience. Chapter VII starting on page 58 speaks of the importance of seeing a medically qualified oculist and not an optician. Opticians are said to be itinerent, ignorant, make spectacles by the gross, advertise to have 'the whole world to wear glases' and they even claim that glasses can be becoming. The chapter says spectacles' destroy the charming mobility of the face' and 'supress the humanity of the face.' and are dangerous because they obscure peripheral vision and distort the perception of size and distance causing 'daily the cause of many painful and serious accidents on railroads and crowded streets'
How Acquired:
Purchased by Kett Museum (Abe Books )
Location:
Nathan Library. Aitken collection