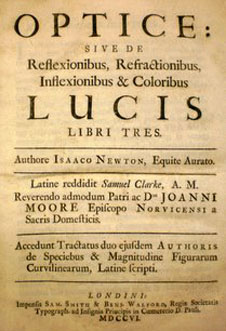 Optice: sive de reflexionibus, refractionibus, inflexionibus & coloribus Lucis libre tres
Sub-Category:
Significant book (Aitken collection)
Year Of Publication/Manufacture:
1706
Time Period:
18th C and earlier
Place Of Publication/Manufacture:
London
Publisher/Manufacturer:
Sam Smith and Benj Walford
Description Of Item:
Latin edition of Newton's Optics translated by Samuel Clarke. Leather bound, 245 x 190 mm, 348 pages, with fold-out figures plus a 24 pp appendix "Enumeratio linearum tertii ordinis" and a 43 pp appendix ""Tractus de quadratura curvarum". Inscribed on the fly leaf in pencil that it is the 2nd ed, the first in Latin, and that Newton gave Clark 500 pounds for the translation. The book deals with the theory of light and colour and with investigations of the colours of thin sheets,'Newton's rings' and diffraction of light. He uses a wave theory of light and his corpuscular theory to explain his observations.
Historical Significance:
Sir Isaac Newton (1643-1727) was a great figure in the history of optical science. His classic "Opticks" was first published in English in 1704.This Latin edition was published to satisfy a wider scientific audience in Europe. Newton was Lucasian Professor at Cambridge 1669-1693 and a Fellow of Trinity College. He achieved fame as a creative mathematician and for his law of universal gravitation which explains planetary motions. He retired from research in 1693 to become a government official in London.
How Acquired:
Donated by Michael Aitken, honorary archivist
Location:
Nathan Library. Aitken collection