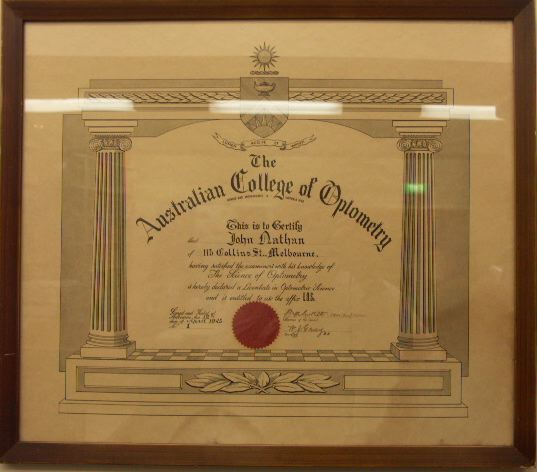 First Diploma of Licentiate of Optometric Science awarded to John Nathan 1945
Sub-Category:
Certificate, diploma
Institution:
Australian College of Optometry
Year Of Publication/Manufacture:
1945
Time Period:
1940 to 1999
Place Of Publication/Manufacture:
Melbourne, Victoria
Description Of Item:
Certificate No 1 of the Licentiate of Optometric Science (LOSc) dated April 12 1945 awarded by the Australian College of Optometry to John Nathan. Signed by CW Kett (Chairman) and W J Gray (Secretary). Framed in a wooden frame with glass xxx x xxx mm.
Historical Significance:
John Nathan was one of 4 students in the first class of optometry students in the Australian (later Victorian) College of Optometry, of whom 3 completed their course at the end of 1944 and were awarded the Licentiate Diploma at the Annual General Meeting of the College held on April 12 1945. The Chairman's Report records that 'some 80 optometrists and friends' were present at the meeting which took place in the Public Lecture Theatre of the University of Melbourne and that the diplomas were presented by Professor Arthur Amies. The students were Douglas Geoffrey Allen, Anthony Podmore Douglas, John Nathan. John Nathan was awarded certificate No 1 as a mark of respect for his optometrist father, who had played a key role in securing the passage of legislation in Victoria for the registration of optometrists in 1935.
How Acquired:
Donated by John Nathan
Condition:
Good. Some discolouration
Location:
Nathan Library. Foyer Upper display south wall