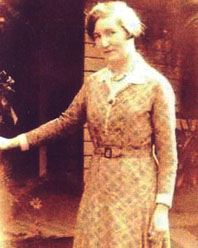 Certificates, papers and photograph of Ida Ghent, one of the first women to practice optometry in Australia
Sub-Category:
Collection of papers (People) incl CVs
Description Of Item:
(1) Photograph (Image 95 mm w x 130 mm H), sepia, of Ida Ghent.(2) Photograph, (Image 102 mm w x 138 mm H), black and white, of Ida Ghent's practice. (3) Membership certificate of the Victorian Optical Association (founded 1911) for Ida E Ghent dated 21 August 1922. (4) Menu of the VOA Congress dinner 25 September 1941 signed by Ida Ghent and other attendees (5) Letter for the VOA dated June 27 1922 to Ida Ghent signed by Howard S Bell (Secretary) advising her of the award of the Medal of the VOA. (6) Duplicated typescript lecture notes and test questions of Ida Ghent dated 1920-1.
Historical Significance:
Ida Emily Ghent (1899-1985) was one of the of the first women to practise optometry in Australia. There were very few women optometrists until about 1970. Ida Ghent was one of the first. She was born in Bristol England in 1899 and migrated to Australia about 1915. She worked as a bookkeeper or accountant before embarking on the course for Fellowship of the Victorian Optical Association, the precursor to the Optometrists Association Victoria. She graduated with distinction in 1921. She was awarded the Medal of the VOA for obtaining the highest marks in the course at the Association's AGM on July 22 1922. She established her own practice in Shepparton, Victoria, where she remained until about 1940. Registration of optometrists was introduced in Victoria in December 1935 and she was one of six women among the 286 optometrists that were registered for the first time in 1936. She practised in Hawthorn, Melbourne briefly before retiring.
How Acquired:
Donated by Family of Ida Ghent
Date Acquired:
April 2007
Location:
Archive office. Pamphlet and ephemera filing cabinet. Drawer 3