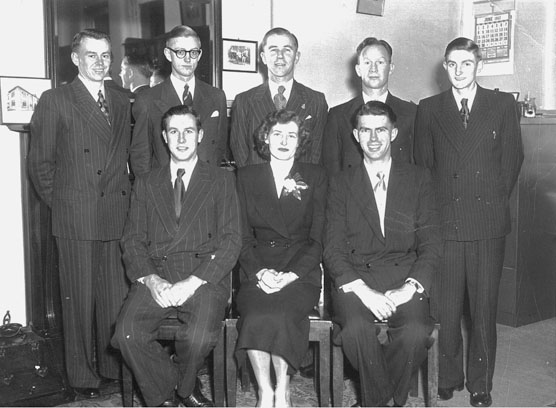 LOSc diplomates of the Australian College of Optometry 1951
Sub-Category:
Photograph People and events
Year Of Publication/Manufacture:
1952
Place Of Publication/Manufacture:
Melbourne
Description Of Item:
Black and white photograph, 25 mm W x 165 mm H, of the LOSc diplomates of the Australian College of Optometry of 1951. The diplomates are: standing from left : Ian Swaby, Ron Wrigley, Ernest Spencer, Arthur Kerner (deceased), Tom Sharpe: Seated from left: Bruce Besley, Marjorie June Bodmann, Geoffrey Henry (d 2010)
Historical Significance:
The picture includes two graduates who were latter to be important leaders in their profession. Bruce Besley was Victorian State President of the Optometrists Assocation 1961-62 and National President of the Association1970-73. He was very much involved in the acceptance of optometry into the Australian goverment national medical insurance scheme then called Medibank. He was on the College Council from 1957 to 1991 and was President of the College from 1978 to 1991 during which time the College undertook major re-building. He was elected an honorary life member of the College in 1976. Geoffrey Henry (1930-2010 ) was First Vice-President of the Australian (later Victorian) College of Optometry from 1955 to 1967 having served only one year previously as a Councillor in 1954 and had obtained his LOSc diploma only three years earlier in 1951. He set up practice in Camberwell. He had already completed a BSc degree with first class honours before starting his optometry course. He was a part-time lecturer in the College, teaching visual physiology from the early 1950s to the late 1960s. Under his chairmanship the College recovered from a financial crisis by obtaining recurrent government funding and a capital grant to buy land in Carlton and build the College's building in Cardigan St in 1960. The new financial security of the College enabled it to appoint its first full-time lecturer.He was a collaborator with John Nathan and Barry Cole in starting research in the College. He won a Churchhill Fellowship in 1968 which enabled him to research overseas in Indiana University with Russell Devalois and in Cambridge with WAH Rushton. He returned to Australia to sell his practice and resign his positions in the College to take up a research fellowship in the John Curtin School of Medical Research working with Professor P O Bishop. His work at ANU on the visual neurophysiology earned him a DSc degree and a world reputation for his contributions to understanding the visual cortex.
How Acquired:
Donated by Ron Wrigley, member of the College
Condition:
Good Some mould marks on back
Location:
Archive office. South wall. Cube 5 Album 3