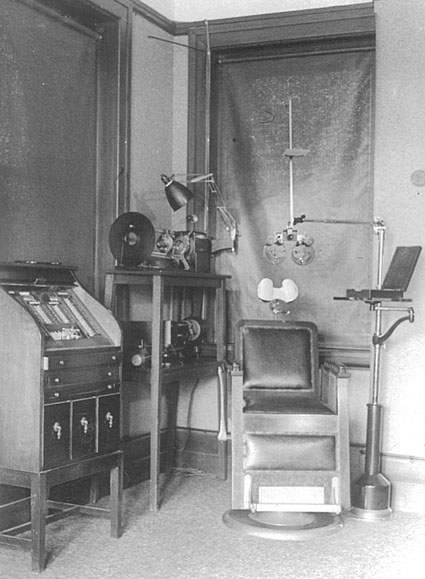 Consulting room(s) of Victor C Simon
Sub-Category:
Photograph Equipment
Year Of Publication/Manufacture:
c 1935
Time Period:
1940 to 1999
Place Of Publication/Manufacture:
Sydney
Description Of Item:
Two black and white photographs, 110 x 85 mm. one horizontal format one vertical, with 4 mm white margin of optometry consulting rooms. Written on the back of one 'VCS Rooms 74 Pitt St.'
Historical Significance:
These two photgraphs are illustrative of optometry consulting rooms in the 1930s and 1940s, or at least of those optometrists who wished to present themselves in a professional manner and who were zealous in their pursuit of technical skill and knowledge. Victor Simon qualified in optometry in 1927 by completing the 3-year part time course run by the Institute of Optometrists of NSW. He went into partnership with AJ Wyatt at 74 Pitt Street Sydney and later moved to Macquarie Street, then the medical street of Sydney. Wyatt was the Secretary of the NSW Institute, which had its address in Wyatt's practice. One of these photographs (B) is identified as being at that address. The other might be of his rooms in Macquarie Street. Simon was active in the profession. See HJ Alexander Aust J Optom 1975; 58: 352-353. He was a councillor of the Institute until 1968 and served as its President. He was also National president of the Australian Optometrical Association 1951-1952. He was very active in education, both his own and in teaching at the NSW Optometry course. He studied physiology for 3 years at the University of Sydney (1930-32), obtained his Fellowship of the UK Institute of Opticians in 1969 and took courses in contact lenses. He was on the NSW Registration Board 1947-1969. He was made an honorary life member of the AOA. He died in 1975.
How Acquired:
Donated by Tony Simon, NSW optometrist, son of Victor Simon, a prominent optometrist in NSW mid 20thC
Location:
Archive office. South wall. Cube 5 Album 3