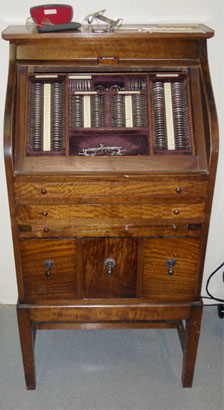 Optometrist's consulting room cabinet
Sub-Category:
Furniture incl instrument stands
Year Of Publication/Manufacture:
c 1930
Time Period:
1900 to 1939
Description Of Item:
Brown stained timber cabinet, 1240 mm H x 655 mm W x 440 mm D, with roll top section containing a trial lens set, 2 drawers spanning the width of the cabinet, a pull out writing surface and three deeper drawers below the writing tablet in horizontal array, four tapered legs 400 mm high. A trial lens set is inserted in the roll top upper section with metal rim trial spherical and cylindrical lenses, 8 prism lenses, a set of pinhole, slit, occuler, Maddox rod etc, and two Lederer lenses (which date from 1955). A black leatherette carry case (1487A) forms part of this item since it is for carrying the trial lens set when undertaking home visits. Case stored in Archive Office East Wall Unit 2.
Historical Significance:
This cabinet was owned by Victor Simon and used in his Sydney city practice at either 74 Pitt Street or Macquarie Street or both. It is pictured in the photograph of his practice (see catalogue number 1483). It is typical of a consulting room cabinet used by many optometrists at the time Victor Simon qualified in optometry in 1927 by completing the 3-year part time course run by the Institute of Optometrists of NSW. He went into partnership with AJ Wyatt at 74 Pitt Street Sydney and later moved to Macquarie Street, then the medical street of Sydney. Wyatt was the Secretary of the NSW Institute, which had its address in Wyatt's practice. Simon was active in the profession. See HJ Alexander Aust J Optom 1975; 58: 352-353. He was a councillor of the Institute until 1968 and served as its President. He was also National president of the Australian Optometrical Association 1951-1952. He was very active in education, both his own and in teaching at the NSW Optometry course. He studied physiology for 3 years at the University of Sydney (1930-32), obtained his Fellowship of the UK Institute of Opticians in 1969 and took courses in contact lenses. He was on the NSW Registration Board 1947-1969. He was made an honorary life member of the AOA. He died in 1975.
How Acquired:
Donated by Anthony Simon, Sydney optometrist, son of Victor Simon, prominent NSW optometrist
Date Acquired:
April 2010
Condition:
Good. Trial lens set is complete
Location:
Archive room. Free standing on floor