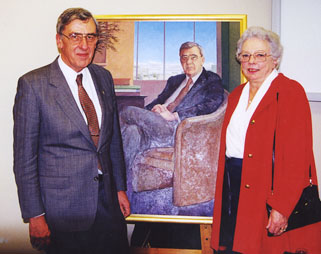 Professor Barry L Cole and Ms Jean S Colledge standing in front of a portrait of Professor Cole
Sub-Category:
Photograph People and events
Year Of Publication/Manufacture:
1998
Time Period:
1940 to 1999
Place Of Publication/Manufacture:
Melbourne
Description Of Item:
Colour photograph, pct electronic fomat only, 1159 x 869 2.88 Mb, of Barry L Cole and Jean S Colledge in front of the portrait of Professor Cole commissioned by the College Council on the occasion of its unveiling.
Historical Significance:
Professor Barry Cole (1934 - ) was appointed the first full time member of the academic staff of the Victorian College of Optometry in 1959 and immediately urged the College to negotiate with the University of Melbourne for the optometry course run by the College to be a degree course of the University. This occurred in December 1960. With John Nathan and Geoff Henry he started the first research program of the College. He became Director of the College in 1964 succeeding John Nathan. He was appointed Head of the Department of Optometry in the University of Melbourne when it was established in 1973 and was appointed the foundation professor of optometry in 1978. He retired as Professor Emeritus in 1999. Jean Colledge was appointed Secretary of the College in 1964 having had experience in the corporate world in Melbourne and London as secretary and what these days would be called personal assistant to senior executives. At the time there were only two other full time staff, Barry Cole and Barry Collin. Over the next 30 years she was very much involved in the rapid growth of the College: its expanding clinic, the starting of the Victorian Eyecare Service, the Low vision Clinic at Kooyong, fund raising for and the establishment of the NVRI and she negotiated the property purchases (see cat no 389) . She was awarded the Public Service Medal(PSM) in the Queen's Birthday honours list in 1990 for her contributions to the public good through the development of the College and was made an honorary life member of the College on her retirement in 1994.
Location:
Archive computer iPhoto