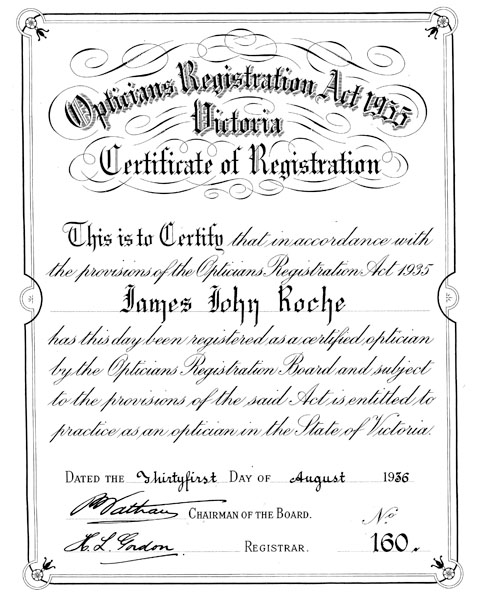 Certificate of Registration for James John Roche issued by the Opticians Registration Board of Victoria 1936
Sub-Category:
Certificate, diploma
Government body:
Opticians Registration Board of Victoria
Year Of Publication/Manufacture:
1936
Time Period:
1900 to 1939
Place Of Publication/Manufacture:
Melbourne
Publisher/Manufacturer:
Opticians Registration Board of Victoria
Description Of Item:
Certificate of Registration, number 160, parchment style paper, 34 cm x 26.5 cm, dated 31st August 1936 signed by B Nathan, Chairman of the Registration Board and HL Gordon, Registrar. It was in a cardboard cylinder carrying the address 'Mr JJ Roach, Elizabeth House, 129 Elizabeth Street, Melbourne C1' with a cancelled one penny King George V postage stamp.
Historical Significance:
James Roche was one of the 233 optometrists first registered in 1936 after the Opticians Registration Act was enacted in December 1935. The optometrists first registered are listed in the Victorian Government Gazette of January 27 1937 (see Cat no 888) but this certificate is dated August 1936. Roche is recorded in Registration Board papers (See Cat No 889) as having a Fellowship of the Victorian Optical Association (FVOA) and as the principal of an optometry practice at 18 Melby Av St Kilda and/or Elizabeth House Elizabeth Street Melbourne for 8 years previously. He is recorded as being in part time practice. His daughter said he never practised, advice that is supported by the mint condition of items of his equipment donated to the museum. Roche's main business may have been as a pharmacist or a jeweller.The signatories are the first Chairman and Registrar of the Board. Gordon was a solicitor and co-founder of the left-leaning law firm Slater and Gordon.
How Acquired:
Donated by Ms Thea Roche, daughter of JJ Roche
Condition:
Fine. Some stains on cardboard cylinder
Location:
Archive room. East wall slat board