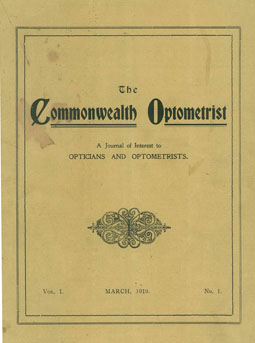 The Commonwealth Optometrist. A journal of interest to opticians and optometrists. (Three unbound early issues)
Category:
Periodical, magazine
Association:
Institute of Optometrists of New South Wales
Year Of Publication/Manufacture:
1919 - 1928
Time Period:
1900 to 1939
Place Of Publication/Manufacture:
Sydney
Publisher/Manufacturer:
Institute of Optometrists of New South Wales
Description Of Item:
Three issues of the Commonwealth Optometrist including Issue No 1 of Volume 1 1919. Light brown light card cover, stapled, 12 pages. The other two issues are Issue No 3 Vol 6 1924 and Issue No 11 Vol 9 1928. The last named issue is signed CW Kett in pencil with the pencil annotation 'Suggested Australian College of Optometry'
Historical Significance:
This set of journals includes the first issue of The Commonwealth Optometrist. It was preceded by 'The Optometrist of NSW' that had been published since 1913. It was adopted in December 1918 at the 1st conference of Australian Optometrists Association as the national journal and changed its name as a consequence. NSW, Victoria and Tasmania Associations adopted it as the national journal in 1919. The Queensland .and Western Australian Associations were slower in agreeing to it being their national journal, doing so in 1921 and 1930 respectively. The first editor was Charles A Kidson of Sydney with C W Kett and JK Cumberland from Victoria being named as Sub-Editors. William G Kett became editor in 1920 remaining so until 1962. The Commonwealth Optometrist became the Australasian Journal of Optometry in 1929, the Australian Journal of Optometry in 1959 and Clinical and Experimental Optometry in 1986. Issue No 1 contains articles by W G Kett under his own name and as K and chief scribe. There is an article by Lionel Laurance on binocular vision and lists of the names of members of the associations in NSW, Victoria and South Australia. Issue No 11 vol 9 1928 contains a report of a committee of the Victorian Optical Association on the feasibility of establishing an Australian College of Optometry in Melbourne or Sydney. The committee comprised Messrs Stanley Latimer, William Johns and Howard Bell, prominent Victorian optometrists. Such a College was established in Victoria 12 years later in 1940. There is also an article defending the rights and competence of opticians by George Lindsay Johnson MD FRCS FRS in response to an attack on them by a Mr H L Easton in the Lancet. This will be an unacknowledged reprint of a letter to an unnamed London newspaper.
How Acquired:
Ex Nathan Library
Location:
Archive office. Pamphlet and ephemera filing cabinet. Drawer 3